IO WEB
The IO Web solution is another pillar in our offering that is developed to simplify access and GUI for employees and users of our clients back-end system. The IO Web solution is a cloud-based presentation layer. No advanced business logic is intended to be stored in our solutions; the solution is simply re-using the already existing logic available in a clients back-end system (use of REST services) and making sure that any data entered through the GUI will be managed correctly in the backend system.
Some clients are slightly overwhelmed with the extensive functionality abilities in the insurance back-end system. IO Web works as a connector to the back-end system by providing a more user friendly, simplified presentation layer that can be used multiple user-groups, such as Client's customers, 3rd parties and / or internal users.
Web portal and security
All communication happens via a Backend user restricted the access required.
Data is viewable through the web portal though no data is stores outside the Backend system.

Requires no GDPR functionality

Web Portal users' access is managed in our Content Management System (CMS) as well as the Customer access to the Backend system (double validation step)
Microsoft Azure cloud security

Continuously surveillance
Always on the latest version
Vulnerability scan assessment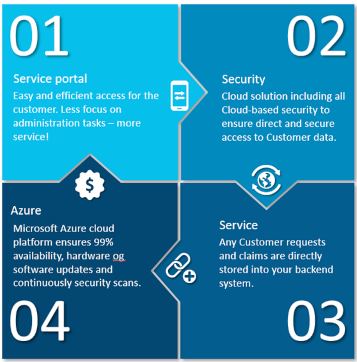 Examples of projects and news related to this area
IO Group is wishing our clients and partners a Happy New Year. 2022 was a fantastic year, and we are very pleased with our client delivery results and the continued product roadmap outcome. 2022 was a year that covered many successful client deliveries combined with...
read more